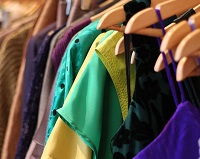 Completely freezing the global textile and apparel value chain, COVID-19 has highlighted some of the major faults in the apparel industry that need to be addressed both in the short and long terms.
Varied responses across the apparel value chain
Though all parties of the apparel value chain were affected by COVID-19, they were not equally positioned to navigate through this sudden disruption. Fashion retailers responded by canceling all orders including those under production. A study by Center for Global Workers' Rights for Bangladesh reveals this led to around 72.1 per cent of the buyers refusing to pay for their purchased raw materials while 91.3 per cent of them refused to pay for the production cost of the supplier. Not only did this leave factories stranded also factory workers, 85 per cent of whom are women, were left without any cash in hand. Millions of these workers were also furloughed and terminated without compensation.
Imbalanced equation between buyers and sellers
According to the McKinsey Global Fashion Index, one of the reasons for this distorted outcome is that over a period of time the power equation between buyers and suppliers
has become more and more imbalanced. During the 10 year period between 2008 to 2017 top-20 fashion companies cornered on average 88 per cent of entire industry profits.
This imbalance has created two types of sourcing trends in apparel global supply chains. First is the 'price squeeze' trend in which buyers constantly seek to lower the price paid to the manufacturers. Second type is known as 'lead time squeeze' in which buyers seek to reduce the lead time of factories.
No payment guarantee for manufacturers
Article 7.1.1 of the Vienna Convention for International Commercial Contracts recommends applying force majeure claims to factories producing items. A few years ago, most payment terms were agreed on Letters of Credit (LCs), in which a bank provided guarantee to the seller upon presenting certain documents as proof that production has completed to the buyer's required standards. However, a layer of bureaucracy was added to the process as relationships between buyer and seller developed, a prevalent system emerged of Sales Contracts (SC) based on Purchase Order (PO) issued by a buyer. Based on SC, the manufacturer would raise its own LC to procure necessary raw materials to complete the order. The SC terms typically provide for legal recourse in case of non-payment.
The flaw in this payment system led to buyers delaying payments and even cancelling orders citing extraordinary circumstances. The manufacturers were left without any bank guarantee even for partially completed orders.
Egalitarian payment structure with modern technology
Therefore, all industry stakeholders need to evolve a more egalitarian payment structure which covers manufacturers' expenses as per the stage of the order execution. In this system, manufacturers are compensated for the purchase of necessary raw materials with the balance payment being guaranteed by contracts or LCs.
To arrive at cost-effective solutions, the fashion industry value chain can also deploy modern technological solutions. These technologies can help the industry to monitor the execution of these solutions and establish trust in data by blockchain, which could then be linked with the stage-wise payment mechanism. Whatever solution the industry adopts, it needs to recognize that the current equation that puts the entire burden of such disruptions on manufacturers is grossly unfair and needs to be amended.