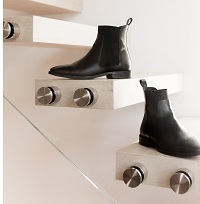 Post COVID-19, the idea of a regional supply chain is taking roots amongst fashion brands. Searching for new alternatives for their current faulty operational systems, brands are increasingly shifting to circular supply chain that also considers environmental impact of clothes, says Imran Ahmed, Founder and CEO, Business of Fashion.
Regional supply chains operate within a certain region rather than being spread out around the globe. They process materials and manufacture clothes within one area of the world. Such an operating system is beneficial for designers, CEOs, and industry leaders. It keeps them connected with customers by ensuring transparency in operations.
Challenges of a regional supply chain
However, regional supply chains also face certain challenges. Use of innovative materials are quite challenging
for brands. For instance, designers are unable to use materials like Piñatex, Muskin, and Zoa™due to their inaccessibility. Such materials are available in only certain parts of the world and are expensive.
However, many other technological advancement can benefit brands. For example, The Renewal Workshop offers state-of-the-art technologies that help brands get their businesses off the ground faster, shares Nicole Bassett, Co-Founder. These off-the shelf tools and applications are customized according to brands' need. The Renewal Workshop also has fully equipped facility to handle all its production in house.
Similarly, Back Beat Co had also hoped to achieve this kind of production initially. However, it soon found the concept quite unsustainable and decided to spread suppliers across the globe with a few local options.
Alliance vs independence
By building such quasi-independent supply chains in the America and Europe, companies like The Renewal Workshop and Back Beat Co aim to provide their suppliers a hedge against future shocks. Such supply chains enable them to easily shift production of key components from one region to another. This combination of thoughtful outsourcing, intentional use of technology and local operations will continue to prevail in future too.
It will create opportunities for small and local manufacturers to imbibe technical innovations, affirms Bassett. To achieve this, brands would need to not just find like-minded international partners but also invest in local materials and production. The future of the industry will hinge on collaboration rather than competition.