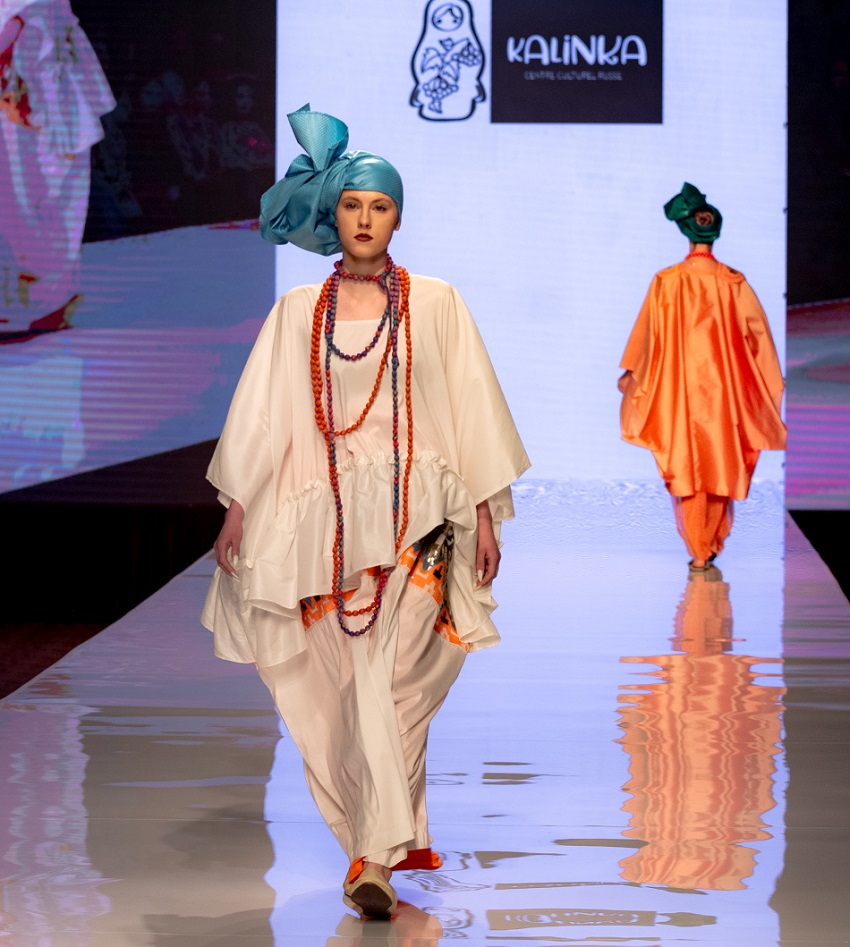 Eight modest fashion shows took place on May 20 during Modest Fashion Day within the International Economic Summit 'Russia – Islamic world: KazanForum', powered by Russian Fashion Council and Digital Talents Dubai Milano.
15 designers from Indonesia, Kazakhstan, Senegal, as well as 5 Russian cities presented their collections, including Abzaeva (Ulan Ude, Russia) / Gapanovich (Murmansk, Russia), Aida KaumeNOVA (Kazakhstan), HADÁMI (Makhachkala, Russia), SAHARA (Ufa, Russia), SANET / Keewa (Indonesia), Su.Su (Kazan, Russia), UMMAYA (Grozny, Russia), Senegal Fashion Show: Couleur Afrique, Touty, Kamal Raw, Edg.mery, Sidy Counda, and Al Gueye (Senegal). The event was arranged in Korston-Kazan – a hotel, shopping, and entertainment mall.
Senegal Fashion Show: Couleur Afrique, Touty, Kamal Raw, Edg.mery, Sidy Counda, and Al Gueye (Senegal)
For the first time, 6 designers from West Africa, already well-known in their home region, demonstrated looks from their collections to the Russian audience. This show was supported by Kalinka, Russian culture center.
Designers from Senegal make clothes using traditions as an inspiration, from natural materials popular in West Africa, including Bazin, Manjack, and cotton waxprint materials. Their looks are reminiscent of traditional African wear – bubu, as well as vividly colored sarafans that Russians are familiar with, but with common local prints.
Catwalk: https://disk.yandex.ru/d/GBY4MVvFCYzP0A
Su.Su (Kazan, Russia)
Su.Su, a Tatar clothing brand, brought to the catwalk a collection of linen and cotton dress-shirts, skirts, and bathrobes, all in pastel shades. The designer explained that in this collection they used only breathable and hypoallergenic fabrics – cotton, linen, tencel, and nettle cloth. Loose simply cut silhouettes with unique elements make movement especially comfortable.
Catwalk: https://disk.yandex.ru/d/ENIyluYm14WYTw
Aida KaumeNOVA (Kazakhstan)
Aida KaumeNOVA brand was established in 2007, in Almaty, by Aida Kaumenova. Clothes made by this Kazakhstan-based designer are sold in 4 stores throughout the country, as well as across the globe – in the CIS countries, Europe, America, and Asia. The fashion house makes Luxe, Pret-a-porte and Mass-market wear.
After her education in Italy, the designer came back to Kazakhstan, willing to change the local attitude to traditional clothing. Many people thought of it as archaic, but Aida was positive that it can be fashionable, fit for modern life and conditions. She had no doubt that this Kazakh ethnic fashion can find its place in a modern wardrobe.
The new collection presented at Modest Fashion Day including dresses, skirts, jackets, and suits in the warm color palette, from pink and terra-cotta to brown and blue. The assortment of fabrics used included lace, and florals, and gaugre, as well as laconic restrained textiles.
Catwalk: https://disk.yandex.ru/d/kJ-Q4UJzC41Vlw
UMMAYA (Grozny, Russia)
UMMAYA fashion house was established by designer Ummaya Akhmadova and her team in 2015, in Chechnya. Today, all of the brand's wear is made in Moscow and at their own production site in Stavropol. Ummaya, the founder of the brand, was brought up in a traditional family, and that's why she tends to classical and feminine austere silhouettes.
In particular, the brand aims to preserve, develop, and promote Muslim culture and traditions. The designer prefers hand-made embroidery, 3D applique, and lace to flow-line prints. Their collections include references to some works of art, too – mainly impressionists. For her show at Modest Fashion Day, the designer chose motives of ancestral towers, typical for the Nakh architecture and common all over the North Caucasus, so to share the local atmosphere.
Catwalk: https://disk.yandex.ru/d/MWJ8iVvG_2UQ6w
SAHARA (Ufa, Russia)
The looks created by this modest fashion brand from Bashkiria stand out thanks to smooth silhouettes, bold prints and combinations. This is indeed an up-to-date take on traditional modest fashion wear. The collection of the brand comprises traditional clothes like abayas, hijabs, mullet pants, and some more modern pieces – dresses, skirts, shirts, pants, kimonos, and sportwear, including burkini swimming suits, accessories, and headwear. The designer experiments with denim and the casual style at the confluence with conventional fashion.
Designer Zainab Sitdikova, the founder of the brand, outlined that her brand aims to offer Muslim women trendy and comfortable wear in compliance with their values, which at the same time will be good for modern life.
Catwalk: https://disk.yandex.ru/d/f6oZ_xos2PmyoQ
HADÁMI (Makhachkala, Russia)
The Dagestan-based modest fashion brand HADÁMI was established in 2018 by two sisters – Khadizhat and Aminat Magomedrasulov. The concept of the brand is a new take on the modest clothes, which are no longer seen as austere wear for Muslim women. Today, modest fashion is more than a tradition. It is a lifestyle, based on the idea of one's connection to their historical roots, of comfort, uniqueness and multilayerdness as the cornerstones of modern life. That's why the looks designed by the brand attract secular women, too.
The collections are based on the game of local patterns. For instance, the last drop was dedicated to the image of a Didoan woman. Didoans are one of the indigenous highland peoples of Dagestan. For their new collection – 'Original Look' – the designers found inspiration in the poetry of Dōgen, a Japanese monk and philosopher from the 13th century. The drop comprises basic garments that easily complement each other and can fit into anyone's stock of clothes – skirts, dresses, suits, and of course the unconventionally cut trenches, which have already become the brand's style. To make this collection, the brand mainly used natural colors & fabrics.
Catwalk: https://disk.yandex.ru/d/M6bMqg79vIWejg
SANET / Keewa (Indonesia)
SANET SABINTANG, a designer from Indonesia, was inspired by the clothes worn by students from Muslim girls boarding schools – there were long mantles, sarong skirts, and oversize blazer jackets. According to the designer, today there are many Muslim boarding schools in Indonesia today, which help girls to build careers and take a more active part in politics. This is why their lifestyles change – and the fashion follows this change, too. At the same time, the existing ethical and cultural values remain in place.
The key highlight of the presented collection was layering. The textiles used were cotton, linen, viscose, as well as different fabrics treated with Shibori Japanese dying technique.
Footwear for the collection was brought by another Indonesian brand – Keewa.
Catwalk: https://disk.yandex.ru/d/bOZ-ZGNx0Gt82w
Abzaeva/Gapanovich (Ulan Ude, Russia / Murmansk, Russia)
Two Russian brands from Buryatia and the Murmansk Region brought to the catwalk of Modest Fashion Day some futuristic looks – extensive oversize puff quilted jackets complemented by balaclavas, as well as romantic rouches and skirts from streamy fabric.
Both brands work in compliance with the local identity of the region and traditional clothing, offering the audience a new creative take on these.
Designer Nadezhda Abzaeva came to Modest Fashion Day with her quilted vests, puffy corsets, as well as texturized jackets with extensive sleeves. Abzaeva prefers natural materials – cotton and denim made in Russia and China.
Designer Alexandra Kruchuk from Murmansk (Gapanovich brand) presents in her collections a contemplation over the traditional Russian folk costume related to the history of the people of the North. She uses lots of rouches, handmade knitting, extensive sleeves, and skirts. This collection included looks made of stonewashed cotton and nettle cloth, as well as feminine blouses with floral prints, floating skirts, and sundresses of batiste and rough veil.
Catwalk: https://disk.yandex.ru/d/yXLV-bYS_6CALg
Please stay with us and follow the latest news at our official web-sites: https://kazanforum.ru/en/modest-fashion-day/ https://russianfashioncouncil.ru/en/
To get more information please contact us at This email address is being protected from spambots. You need JavaScript enabled to view it.