DEMO. The contemporary classic- SS18 collection – Boys, be flowers
DEMO has always been inspired by contradictories. The traditional character in courtesan, oiran appears as the protagonist of the season spring summer 2018. "Ordinary flowers bloom in spring, only plum blossoms in the winter, effloresces prior to all, and it's called Oiran."
This season, DEMO reinterprets the beauty of the oiran and her culture with the brand's contemporary classic style. Integrating design elements of men's suits and Japanese costumes, the collection presents, with sophisticated lines and relief silhouettes, a touch of elegance with a scent of delicacy.
KA WA Key-Designers: Ka Wa Key Chow & Jarno Leppanen
KA WA Key's work explores the relationship between soft masculinity and the identity of Asian men with the roots of their sensuous cultures and aesthetics. His personal design process involves the hybridities in; Eastern and Western clothing, masculine and feminine representations and the traditional textile crafts with the latest fashion technology. All fabrics are crafted in-house in London.
SS18 Collection-"Fried Rice in the Closet" (Fried Rice means sex in Chinese slang) A young guy who dresses up sportswear as he wants to hide his sexuality.
Kurt Ho- Monologue
Whilst traces of living can be found within what one's wearing, I try to reflect, reveal my most intimate stories and thoughts throughout the collection - loudly, proudly, yet still attempting to keep it low - humbly, quietly, and remorsefully. This is my monologue.
HANG –Mim Mak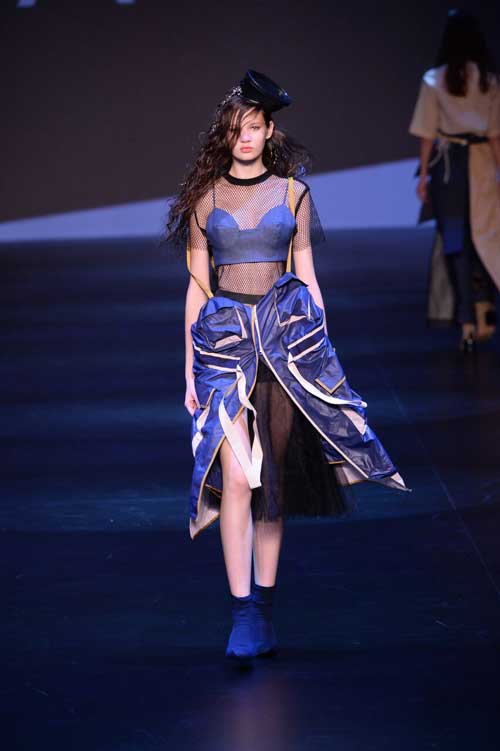 Ama is a very ancient occupation of history, refers to women who do not have auxiliary breathing apparatus, and are submerged into seafood such as sea lobster, scallops, abalone, conch and other seafood. Design inspiration from the sea of the women, a group of fishing to survive the women. They used nets, hemp to fishing seafood. These tools have become the main garment element in this collection, Nets line with surface of fabric shows sense of space.
NECRO POON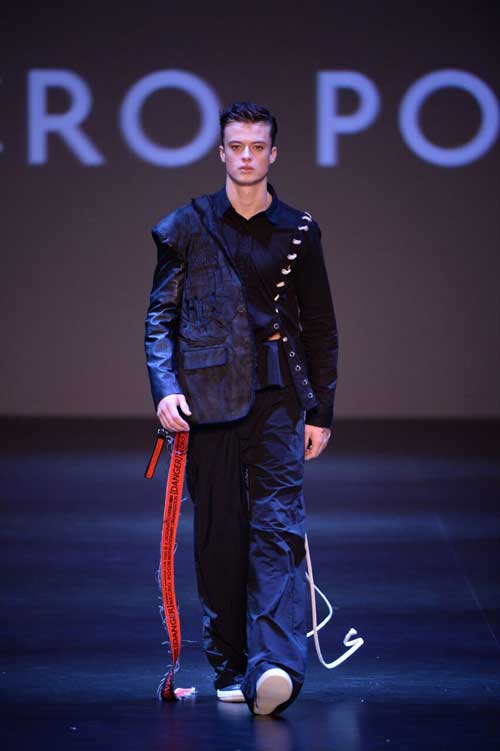 NECRO POON is a contemporary menswear designer brand which was established in 2015.
"I believe that fashion is a medium through which I can make my dreams into reality," explains Poon. His designs are inspired by the concepts of global political awareness and contradiction, which in turn derive from his belief in liberty, independent and equality. Through his designs, he hopes to reach out to people who share his values, as well as influence those who perhaps do not.
Poon believes that clothing must be wearable and comfortable, that it is clothing first and foremost. To that end, he develops and utilizes technical, functional materials to incorporate into his garments. Poon hopes that all those who wear his designs will feel fashionable yet comfortable, and moreover inspired by his sense of social concern
NelsonBlackle -Nelson Leung
" You are not just wear it, but also play with it! " This is the vision of NelsonBlackle, to have a joyful life with our outfit. "NelsonBlackle", mainly focus on menswear. He combines elements of glamour and sophistication with bold tailoring techniques.
Nelsonblackle ss18 collection is inspired by tsuguharu foujita, a Japanese – French painter and printmaker. He create a very unique painting skill which is being criticized by the other Japanese artist at that moment. But he persistently use his own technique to create his work, and now he is a legendary artist in the world.
From Clothing Of- Shirley Wong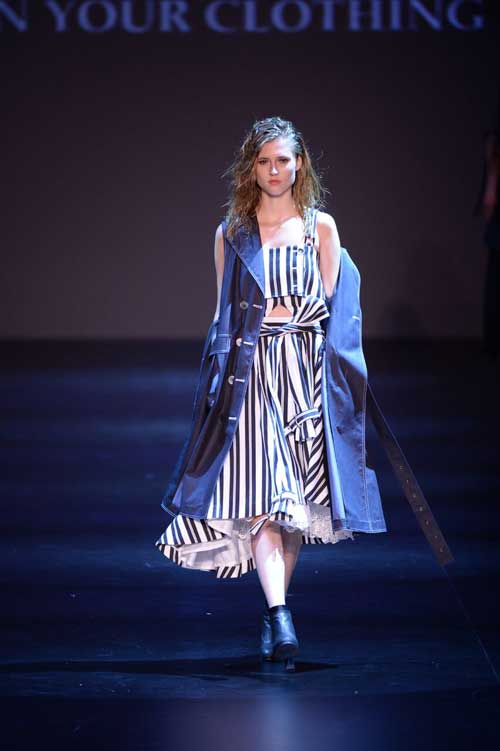 Inspired by Joe Hishaashi's 'The Rain', Shireley's latest collectionsymbolises her never ending fashion odyssey and persistence in subverting the stereotypical narrative of faminity. The SS 2018 collection consolidates the brand's aesthetic style and incorporates several pieces of travel clothing, such as windbreakers and multi-pocket pants into everyday wear
Lapeewee
The theme of Lapeewee S/S 2018 is "Mini-Miss", idea is extracted from the American movie "The Little Sunshine", in which a family decided to take a road trip to get a seven-year-old girl into the child beauty pageant.
The new collection sticks to its philosophy by creating a collection that tailored with a modern twist and an easily carried color palette. A particular favorite aspect, is the use of baby-doll and empire-waist cuttings, combining with girdle details. Likewise, blue and white colors' hand drawn prints are commonly used in the collection, with colors ranged from navy blue, beige and apricot colors, while embellished with yellow color.