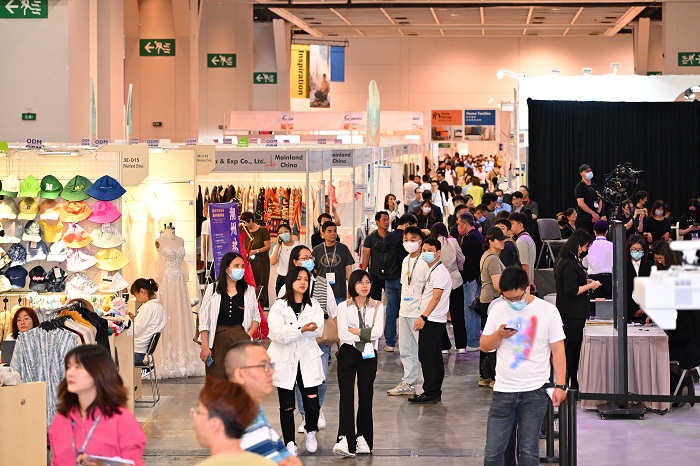 The Hong Kong Trade Development Council (HKTDC) unveiled seven creative events yesterday covering fashion, lifestyle and licensing at the Hong Kong Convention and Exhibition Centre (HKCEC). The events are the Hong Kong Gifts & Premium Fair; Home InStyle; the Hong Kong International Home Textiles and Furnishings Fair; Fashion InStyle and the Hong Kong International Printing and Packaging Fair, as well as the Hong Kong International Licensing Show and Asian Licensing Conference.
These seven events have attracted more than 4,100 exhibitors from 23 countries and regions, covering gifts, home products, home textiles, fashion, printing and packaging solutions, licensing projects and more, while the Asian Licensing Conference has invited about 30 global industrial giants and insiders to share insights.
The events have recruited more than 200 buying missions from 50 countries and regions, including buyers from the mainland, Japan, Korea, Association of Southeast Asian countries, India, the Middle East, Germany, France and the United States to source in Hong Kong.
During a media tour, Sophia Chong, Deputy Executive Director HKTDC affirmed, "HKTDC has always been committed to promoting Hong Kong creative and design industry to the world through exhibitions, conferences and other activities. Seven major events are being held under one roof for the first time,providing a unique platformtocultivatenewpossibilities.We believe this will create greater synergies and will open up more business opportunities across industries and disciplines."
"This year, the exhibitions featured about 70% non-local exhibitors and welcomed numerous provincial and municipal delegations from Mainland China – a testament to the return of international businessmen to Hong Kong," she added.
Fashion InStyle and Home InStyle reflect the new repositioning of the shows
Speaking at overseas journalists breakfast meeting today morning Katherine Fang, Chairperson HK Garment Advisory Committee, Hong Fashion Week the earlier titled show has been repositioned and renamed as Fashion InStyle keeping in mind that fashion today spans into lifestyle space not just restricting itself to apparels. Fashion InStyle, the new identity truly represents what the exhibition and various forums have to actually offer. HKTDC has another show Centrestage which is held during September month will showcase brands and designers through many catwalks and fashion shows.
"The new positioning and new identity represent more inclusiveness of the show, as we introduce new fashion technologies and AiDLab forum in the show, broadening the concept of the show", added Joe Leung, Associate Director, Marketing & Buyer Engagement, HKTDC.
Designer brands across lifestyle products showcase very creative works
As the cultural and creative industries flourish, the Cultural and Creative Corner zone debuts at the Gifts Fair and Home InStyle to showcase designer brands and products with cultural characteristics, unique and tasteful designs.
At Home InStyle, the Zhejiang Pavilion features handcrafted home-decor products from different provincial cities under the Zhejiang Ingenuity: Culture and Quality theme. Fashion InStyle has attracted about 500 exhibitors, including a debut Jiangxi Province pavilion where 25 exhibitors showcase fashion and accessories.
HK designers and brands showcase their creativity
The Hong Kong Houseware Fair has been renamed Home InStylewith the expectation of bringing more design and style-oriented products to buyers. The Hong Kong Industrial Designers Association (IDSHK) will join Home InStyle for the first time.
The HKTDC has been a staunch advocate for the development of local creative culture and protection of intellectual property, including ReMix, SHIBAINC, Falling Cyan, Malut Design and 8EGGS Studio – displaying the products of Hong Kong creative minds.
Technology leads to sustainable future
Fashion InStyle's zone InnoFashion and Trade Services focuses on fashion technology and a variety of innovative fashion technologies, including the AiDLab of the Hong Kong Polytechnic University, which brings in world's first designer-led AI system (AiDA) that facilitates designer's inspiration and speeds up the whole ideation and design development process, improving the sustainability of the production chain. Demand for environment-friendly products continues to rise in global markets.
The AiDLab Summit debuted at Fashion InStyle with academic experts discussing artificial intelligence (AI) application in fashion design.