Established in 1967, Kingtex is a Taiwan-based textile machinery manufacturer involved in making knitting and sewing machines. Yutin Wang, Special Assistant to the President, elaborates on the company's operations and its future plans.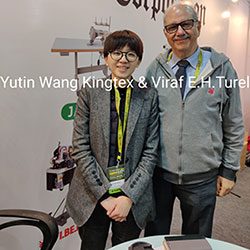 "Knitting is our core strength area," says Yutin Wang, Special Assistant to the President of Kingtex-a Taiwan based textile machinery manufacturer. The company manufactures knitting and sewing machines from its unit in Taiwan. "We manufacture all our machines in Taiwan, which ensures a more superior quality than of machines made in China," adds Wang.
The prices of these machines are also lower than those made by Japanese manufacturers though their quality is on par with Japanese machines. "Taiwanese employees are also more loyal than Chinese employees. Each of our employees has been working with us for over 20 years," states Wang.
Kingtex's business is spread across the world. "Besides selling in Ethiopia, we also operate in the South Asia, China, Thailand and Vietnam market. We now aim to increase our visibility in the Indian market where we have been operating for the last 30 years," notes Wang.
Kingtex will embark on its Indian expansion by selling its machines in the Tirupur market. "Tirupur is more accepting than the Ludhiana market which is not aware of our quality and brand," says Wang. "To make headway into this market, we need to acquaint our customers in the city with the advantage of collaborating with us," she adds.
For Kingtex, the Indian market holds great significance as it enables the brand to establish itself faster. However, the Chinese and US markets are also improving, The brand believes that the business mood in 2020 will be same as in 2019. "There won't be much of an improvement as of now," says Wang.