With cut-throat competition, labour shortage, and introduction of cutting edge technology to satisfy the growing demand for quality products, companies manufacturing garment machineries are looking at India as one of the fastest growing countries with rising global exports and domestic consumption.
Technology adoption the way ahead
Amidst hundreds of machinery manufacturers, a few have made their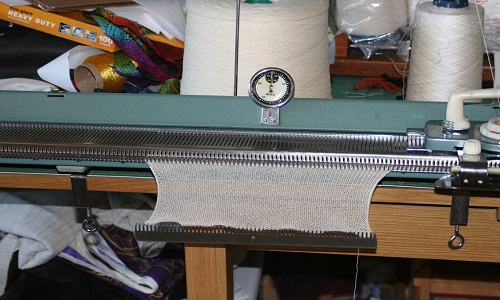 presence
felt at the global level. Garment machinery manufacturers see huge possibilities of selling machines in India. As Inder Arora of Shima Seiki says, "There are more than 3,000 registered hosiery factories in Ludhiana and every unit needs at least one machine. We have nearly 2,000 of our machines in the market which means we haven't yet met requirements. The number of factories is more than the number of machines. So there's a huge possibility to sell. On an average, every hosiery unit needs two machines. This year we hope to sell some 6,000 machines in Ludhiana alone. Everyone is shifting from hand to computerized machines. Ludhiana is facing a labour crunch and garment manufacturers want to replace labour with machines."

In case of innovation, not only in garment designing but also in fabrication, India has earned a niche in global market. But the domestic market seems to have lagged behind in this respect. Komal Jain, Chief Executive Officer of Nahar Spinning Mills, observers, "The market has not been favorable for last two- three years. This is the main reason why Ludhiana manufacturers have not taken to new machinery. The Ludhiana small scale industry needs government incentives. It also needs higher drawback rates. Ludhiana faces competition from brands that have come to India. There is a little room for mediators but new technology and production methods will help in boosting their businesses." The business environment is picking up compared to 2014 and everyone is hoping for the best. The Chinese government encourages the new industry that even their capital investment was free after some years. Ludhiana has fewer incentives compared to Gujarat or Madhya Pradesh. Ludhiana has skilled labour and technology but due to lack of incentives and competition from China and other countries manufacturing is reducing.

Lalit Khosla, General Manager (Marketing), HCA, finds the need for automation in sewing or knitting so end user can get the benefits. He says, "Ludhiana is the mini Manchester of India. We see good business. People are consolidating expanding and going in for automation. They want to give their buyers better products, quality at competitive prices. At the moment, domestic market is a bigger draw while exporters are few in number." Khosla believes the 'Make in India' initiative will make a difference as far as production for exports is concerned. "The initiative will promote manufacturing," he points out.

Though there are many manufacturers, German and Italian companies seems to have a clear edge in India. Government initiatives are expected to further strengthen the country's textile exports with adaptation of advanced machineries in the sector.