The fifth day of the Merdeces-Benz Fashion Week Russia started off with a collective show by the Contrfashion (standing for Contradiction Fashion) project, collecting young, artistic designers who showcased their unique and vibrant talent. The show contained four distinct parts, varying wildly in style, concept and method:
DimaKamma& Tata-Polina
This included a stunning collection of glittering fabrics, paired with a wild set of accessories - Art Deco collars, shoulderpads and breastplates of gold and shimmering material. The models stepped out in shocking headdresses, reminiscent of Fritz Lang's Metropolis, and sporting giant silver eagle wings straight from a decoration on a NYC skyscraper.
Daria Fedunova
A stylish, rave-inspired collection, consisting of segmented fabrics - wool, plastic, neoprene, pleather, etc, combined together to form abstract garments. Models were accessorised with big geometric shades, small cubes adorning their heads. A silken cape of pure red finished off this exciting offering from the young designer.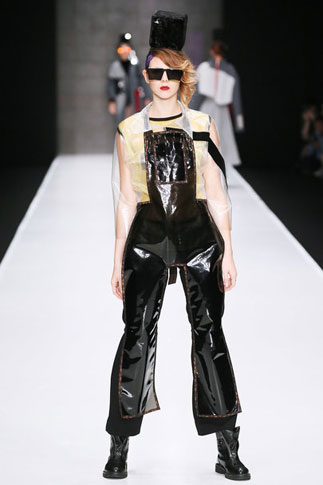 Nicole Feller-Johnson
This collection included a gentle assembly of all-white garments, as though woven from purest spider silk. The dresses seemed to float in the air rather with the light, silk, mesh, muslin and tulle the fabrics adding to the ethereal nature of this collection.
Olga Chernoschekova
This collection was inspired by New York punk and avant-garde - Basquiat and Haring - with bright red, black and white being used profusely. It comprised large coats of leather and faux fur strapped with metal chains, accessories of bleeding-red hearts hanging from neckchains and large leather arms serving as scarves.