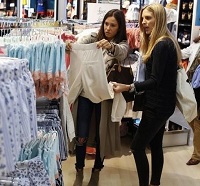 The pandemic proved to be the final blow for the already-ailing apparel sector. Hit by declining sales, the sector saw shoppers buying apparels more through e-commerce and less through bricks-and-mortar stores. As a Coresight Research report suggests, 55 per cent shoppers avoided visiting malls in early September. However, US shoppers are gradually returning to stores. Till October 6 there was a 3.7 percentage point rise in the number of apparel store shoppers, says a Apparel Resources report.
However, this gain was offset by a 1.7 percentage-point decline in the number of people purchasing apparels through digital platforms during the same period. Coresight Research further estimates consumer spending on apparels, through bricks-and-mortar stores, e-commerce or any other platform, will slump 13.2 per cent this year. However, this year, shoppers plan to start their holiday shopping early. Though their total expenditure on apparels is expected to fall, there might be some improvement in the last quarter.
Enticing shoppers with holiday season sales
A survey conducted by First Insight in May indicated 54 per cent of American shoppers were keen to buy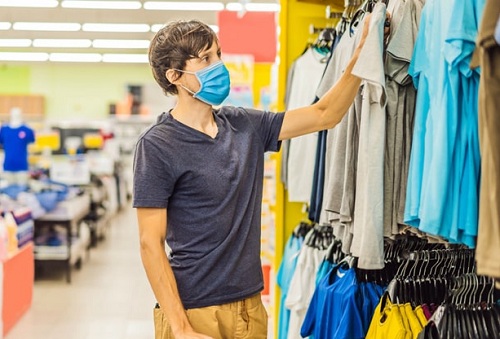 apparels from a store. The most enthusiastic shoppers were the millennials, 80 per cent of whom voted for restricting the number of people within stores while 79 per cent said wearing face masks would make them feel better and safe. Coresight Research survey confirms people's willingness to shop for apparels, casualwear or apparels to be gifted.
To entice these shoppers, retailers are launching holiday shopping sales. Amazon launched its Prime Day sales this month while Walmart increased the inventory of athleisure, loungewear and sleepwear in October The retailer also recently launched a private clothing label 'Free Assembly' to catch the attention of shoppers. Similarly, Banana Republic announced a 50 per cent discount on most of its apparel products, while Old Navy launched the 'Giftober' scheme which offered 50 per cent discount on all its offerings.
Shopping expenditure to slump
As retailers continue to entice shoppers with new schemes, consumers' response so far has been sluggish. As per a Deloitte survey, shoppers' expenditure is expected to slump by 7 per cent Y-o-Y to $ 1,387 per household. Shoppers intend to visit just 5.2 retail stores on average during this holiday season. But as restrictions ease and offices reopen, there could be a surge in formalwear and partywear. A recent NPD survey shows, 27 per cent of men plan to dress more casually after the pandemic, compared to 16 per cent of women.
Shawn Grain Carter, Professor - Fashion Business Management, Fashion Institute of Technology and Tom Ott, Founder, Retail and Fashion Solutions believe though pent-up demand could increase clothing sales during the holidays, retailers and brands should focus on secondhand shoppers or those interested in renting their clothes. Ultimately, it is the consumer psyche that will determine the future course for the apparel market.