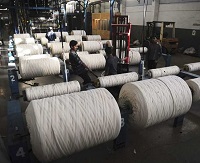 With exports falling nearly 65 per cent in April 2020, the textile industry in Pakistan is on a shaky ground. Exports during the month, declined to $404 million, against exports of $11,139 million during the same month previous year. The outlook for May 2020 too is not very optimistic as nearly 75 per cent of the present installed capacity is reserved for exports and the large erosion of makes the market situation in the country quite alarming.
The EU and the US are the two largest apparel markets for Pakistan. Total annual exports to these two countries exceed $10 billion. However, with COVID-19 pandemic, a large number of customers from these two regions have either cancelled orders or simply reneged their contracts. The total value of orders either being cancelled postponed amount to almost $1.3 billion. Falling prices of domestic and global yarn and cotton further add to the uncertainty in the country.
Future prospects of Pakistan's textile industry
This situation in future is likely to lead to serious cash flow and liquidity constraints in the country. The liquidity crisis is likely to be so severe that many companies may find it
impossible to maintain operations resulting in both bankruptcies and massive layoffs.
To combat this liquidity, the Pakistani government needs to ensure liquidity/solvency of the Pakistani firms. This can be done by either increasing the national ceiling of export refinance available to the exporting firms, dropping the multiple of exports to refinance to a ratio of 1:1, restoring zero-rating with immediate effect and reducing the interest rate on export refinance to 3 per cent.
The government can also freeze interest and defer repayments for one year on all LTTF loans availed by the exporting firms. It can remove supply chain bottlenecks in order to improve competitiveness. To ease the SOP for export manufacturing operations, it can restart production on other modalities such as forward currency bookings, late payment penalties, etc. Lastly, the government can take up these cases at the ministerial and embassy levels to appeal to them or use state's leverage to see to it that they honor their commitments and agreements.
Though recovery of Pakistan's textile exports depends largely on the recovery of the EU and the US markets, it also depends on how serious the Pakistani government is in saving textile exports industry from being dismantled and to what extent it helps to tide over the crisis.