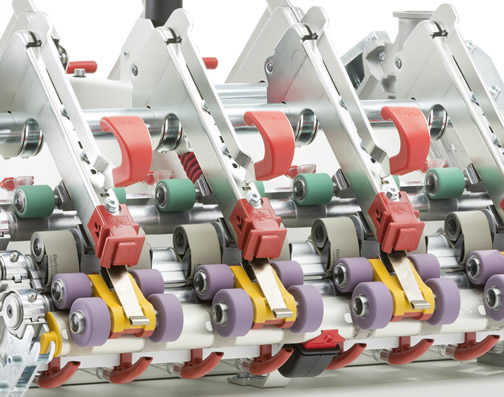 Rieter is further upgrading its end spinning product range by launching new ring spinning machines G 37 and G 38, as well as the new compact-spinning machines K 47 and K 48.
Unrestricted spinning for all applications
The machines G 38 and K 48 are particularly suitable for markets having limited personnel availability and requiring particularly high levels of flexibility and yarn quality. They are equipped with the electronic drafting system drive FLEXIdraft as standard. This reduces downtime when changing to a different yarn count and maximizes production time. The premium version of the individual spindle monitoring ISM is integrated into both models whereby customers can save personnel costs of about 5 percent compared to the G 32 and K 42.
The machine concept for the G 38 and K 48, which features double-sided suction, allows unrestricted spinning for all applications at full machine length. The VARIOspin system for slub yarns allows customers to change between standard and slub yarns simply at the touch of a button.
Unrestricted application range provides high flexibility
The models G 37 and K 47 were developed for markets where there is not a shortage of available personnel and the requirements for flexibility and yarn quality are high. They provide customers with a high level of flexibility thanks to their unrestricted application range at full machine length, also for special yarns.
Machines in the 7 series are also equipped the electronic drafting system drive FLEXIdraft, maximising production time. They are available with the integrated basic version of the individual spindle monitoring ISM as standard, meaning customers can about three percent on personnel costs compared to the G 32 and K 42.
Other advantages
The K –models, K 47 and the K 48 are fitted with a new sieve drum, which now allows customers to spin blends containing polyester and 100 per cent viscose alongside cotton. They require unbeatably low energy requirements for compacting: less than one watt per spindle, just 20 per cent of that of other solutions.
All four new models can be upgraded with the new LENA spindle and the highly efficient 110-kW motor, enabling customers to make further significant energy savings. The "EliTe compact spinning system" for producing high-quality compact yarns is available as an option on the three conventional ring spinning machines G 32, G 37 and G 38.