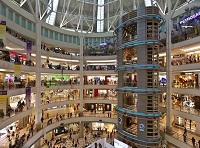 The acquisition of apparel retailer Aeropostale in 2016 led to a new trend of landlords acquiring tenants. In the past several months, the Simon Property Group has acquired a slew of retailers like the Lucky Brand, acquired in partnership with Authentic Brands. Brookfield Property Group took over the brand Forever 21 earlier this year.
Financial gains lure property owners to retail
As per a Retail Dive report, there are many reasons behind landlords acquiring tenants these days. One of the most fundamental amongst these is to make money, says David Simon, CEO, Simon Property Group, which along with Brookfield bought JC Penney in November last year. The acquisition helped the group boost JC Penney's pre-COVID sales to $9 billion. Another reason, property owners look to own their tenants is to preserve rent—the most important revenue source for a mall REIT. It also help them maintain a broader tenant base, says Michael Brown, Partner-Consumer and Retail Practice, Kearney.
Bradley Tisdahl, Founder and CEO, Tenant Risk Assessment adds acquiring a failing retailer also offers accounting advantage for a REIT. It allows the
mall operator to control the retailer's net operating losses (NOLs).
Emerging scenarios
However, for mall operators, owning their retailers can lead to two scenarios. It could either lead them to offer favorable lease terms to own retailers or encourage them to shut retailer's stores in rival malls. This could lead to rival mall's elimination from the market, which may encourage the surviving mall to raise prices.
Earlier, malls used to be anchored by department stores. However, now they are being replaced by specialty players, off-price stores, big boxers and Amazon. Apparel stores like Gap and department stores like Macy's are opening shops at strip malls and open-air centers. This has led to two mall REITs, CBL and Preit filing for bankruptcy withom 24 hours of each other. Property owners like Simon and Brookefield are also under a lot of stress, says a report from S&P Global Market Intelligence.
Brookfield Property Partners aims to solve this problem by going private. This would offer them more flexibility to operate their portfolio besides enabling it to realize asset value, adds Nick Goodman, Chief Financial Officer, Brookfield Asset Management.
Besides their incomes being untaxed, the rules for mall REITs are designed for passive investments, says Nick Egelanian, President, SiteWorks. This boosts their partnership with retailers, adds Matthew Katz, Managing Partner, SSA & Company, which advises companies on strategic execution. However, this deviates from the REIT's original function of owning and managing properties. REITs venture into this business to ensure a steady flow of their revenues. However, by doing this, they also put their stable rents at risk.