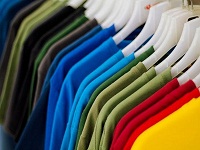 Bangladesh garment shipments recovered as stores reopened and international brands and retailers gave new orders to suppliers' factories. However, the wait for a COVID-19 vaccine, fear of a second wave of infections and US elections is threatening this recovery as manufacturers have witnessed a sharp fall in orders, reports Daily Star. Data from the Export Promotion Bureau shows, in July, Bangladesh garment exports reached $3.24 billion before falling to $2.47 billion in August and totaling $2.41 billion in September. Exports reached rock bottom in April to $0.37 billion. Manufacturers fear, the possibility of a second wave of COVID-19 and complications in US elections may further affect exports.
Second wave may deepen suppliers' payment crisis
Anwar-ul-Alam Chowdhury Parvez, Managing Director, Evince Group and Former President, BGMEA says, a second wave of infections may have deeper
impact on garment exports as stores would have shut down again. Mahmud Hasan Khan Babu, Managing Director, Rising Group, believes further delay in US elections may defer recovery of garment exports from the country.
Rubana Huq, President, BGMEA opines, if the US and EU are hit by a second wave Bangladesh will have to face a tough situations. The first blow of COVID-19 has already exposed significant drawbacks in trade and supply chain, particularly in area of transactions between buyers and suppliers. Currently, one of the major concerns of Bangladesh exports is the uncertainty over payments of confirmed and shipped orders, which amount to $8 billion.
Focus on logistics and port management
Syed Earshad Ahmed, President, American Chamber of Commerce in Bangladesh believe, competitors like Vietnam, Cambodia, Indonesia, Sri Lanka have been getting more advantages and they have better infrastructure and managed the pandemic better than Bangladesh. He advises Bangladesh to focus on logistics and ports management to avoid delays in clearing imports and exports.
As per Ahsan H Mansur, Executive Director, Policy Research Institute, garment exports from Bangladesh are yet to rebound fully. Their full recovery is expected by next March. These exports are been supported by shifting of work orders from China. US' work orders to China declined by 40.93 per cent between January and August compared to the same period last year.
Meanwhile, the US reduced garment imports from India by 25.47 per cent, 9.92 per cent from Vietnam and 14.76 per cent from Bangladesh between January and August this year compared to the same period last year, according to data from the US Department of Commerce. Mansur believes, Bangladesh might receive some of these work orders that got shifted from China.