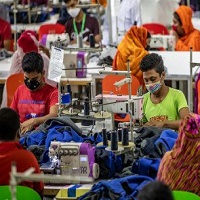 Despite being one of the top garment manufacturers in the world, Bangladesh has been suffering from low labor productivity for the last few years.
Lack of training lowers productivity
Both government and non-government organizations have introduced labor-training initiatives in the country. However, these have been grossly insufficient. Data from 2020 Asian Productivity Organizations show, the average productivity of garment workers in Bangladesh is lower than all competing countries except Cambodia. Its per-worker annual productivity is $10,400 while that of Vietnam is $12,700, India $15,800, and China $23,800. This is mainly attributed to lack of proper training, low wages, unhealthy living conditions, and a lack of proper working environment for women workers, says a report by the Business Standard.
Diversification to boost prices
Low labor productivity further results in low prices commanded by garments in the international market. Bangladesh also risks losing duty-free export
status in many countries after moving to being a developing country in 2026. It also suffers from the changing trends in traditional working styles. To survive, Bangladesh needs to diversify project offerings besides increasing productivity, say experts. Failure to achieve this may result in a negative impact on the industry, says Professor Mustafizur Rahman, Distinguished Fellow, Centre for Policy Dialogue (CPD)
Insufficient government skills programs
Government officials and sector insiders have initiated many plans to address this issue. However, they have done very little groundwork on them. Nazma Akter, Labour Leader and Executive Director, Awaj Foundation believes, the training provided to Bangladesh workers as per the initiatives launched by the government or donors is not sufficient. Workers' productivity also suffers due to lack of nutritious food which they cannot afford due to low wages, she adds Kalpana Akter, Executive Director, Bangladesh Centre for Workers Solidarity (BCWS), also blames the lack of proper training as well as low wages for low productivity of Bangladesh workers. The lack of a women-friendly environment in workplace as well as a dearth of need based and institutional training are some of the reasons for the low productivity rate in the country, she adds.
Fazlee Shamim Ehsan, Managing Director, Fatullah Fashion and Vice-President, BKMEA states, mental health, nutritional deficiencies, family problems and poor living standards as some of the reasons for workers' low productivity in Bangladesh. He also blames the lack of initiatives by authorities to increase workers productivity in line with an increase in garment exports.
Moreover government initiatives are mostly on paper. The three days of training provided by the National Productivity Organization (NPO) for mid-level management of factories does not increase the productivity rate of Bangladesh workers. Run by the Ministry of Finance, the Skills for Employment Investment Program also proves inefficient due to lack of transparency while formed in 2019, the National Skills Development Authority (NSDA) program is yet to start. Workers' skills or productivity cannot be increased through isolated programs at the government or private level, says Labor Leader Nazma Akter. They require an integrated curriculum that should be initiated by the government, she adds.
Industry initiatives to boost skill development
The industry has introduced many initiatives to increase productivity through skill development and other measures. BGMEA has established an innovation centre for the relatively advanced workforce including mid-level management. However, the centre is yet to be operational. Abdullah Hil Rakib, Director says, Bangladesh has established several in-house training centres to train unskilled workers. They are trained to use modern and automated machines.
Earlier, Bangladesh made low-cost clothes that did not require many skills. However, now it needs to shed its traditional mindset and start using high-tech machines to produce high-value products, point out Economist Dr Nazneen Ahmed. Workers are rarely trained abroad as manufacturers have installed high-tech machines in factories, says Shahidullah Azim, BGMEA. The concerned foreign companies come to Bangladesh and train workers. Around 70 per cent of Bangladesh's garment exports are achieved by 450 factories that have introduced training programs for workers. The remaining 30 per cent are expected to join soon.