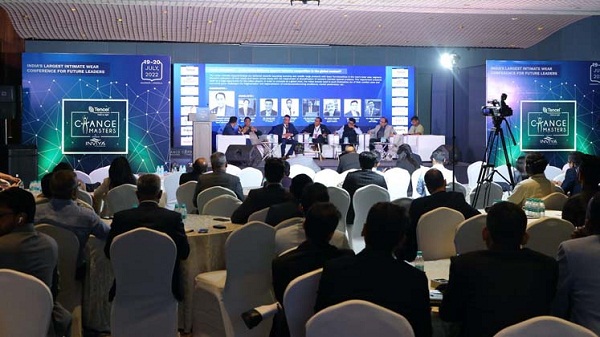 Held on July 19-20, 2022, at The Radisson Hotel, Lonavla, Maharashtra, the Change Masters Conference was a first-of-its-kind B2B event for the intimate wear industry in India.
Propelled by the idea of encouraging young leadership and new business processes, the Change Masters Conference was introduced by Yusuf Dohadwala, Founder, Peppermint Communications, and CEO, Intimate Apparel Association of India (IAAI),. The conference brought together experienced professionals and the under-45 youth brigade from the inner wear segment.
Attended by over 100 brands
The event was attended by over 100 intimate wear brands, factories and retail stores who discussed industry issues. Comprising panel discussions and presentations by more than 20 eminent personalities and speakers from the industry, the Conference was supported by Tencel, Inviya, R|Elan and INTICEDE.
The event commenced withRakesh Grover, President, IAAI; Raj Kumar Jain, Deputy Chairman, NITRA; Sanjay Jain, Vice President, FOHMA/WBHA; and HarminderSahni, Managing Director, Wazir Advisors, lighting the ceremonial lamp. This was followed by presentations by Wazir Advisors. Day 1 culminated in a networking cocktails and dinner extravaganza for all the speakers and delegates.
Making India future-ready
Day 2 of The Change Masters Conference started with the panel discussion on 'Roadmap to Building Future Ready Brands.' The panel discussion highlighted several important factors such as holistic development, branding, updated processes and thinking out of the box.
The second panel discussion was on 'Roadmap to Building Future Ready Brands, Manufacturing and Retail.' The discussion focussed on:
• The key for any brand's success is to solve existing problems
• Awareness and education amongst consumers about wearing the right fit and type of inner wear that young brands like Nykd by Nykaa and Zivame are addressing
• Data is a key driver for brands like Clovia as they collect over 1.5 million data points and feedback from their consumers.
• Quality and feedback from consumers is of primary importance.
The third panel discussion covered 'Future Leaders' Viewpoint,' which invited opinions from young thought leaders to present ideas on market disruptions and innovations. The panels were accompanied by sponsor presentations as well as an interesting session by Sarika Hussain on Unparalleled AI Revolution in Fashion and Garment Industry.
Leaders speak
"The Change Masters Conference is a pioneer event and a great opportunity for the industry to interact, network with like minded individuals and understand the Indian consumer. This understanding and insight into the consumer base and the various aspects of a brand, helps address larger issues, says LavanyaPachisia, COO, Zivame.
"The Change Masters Conference offers India an opportunity to move from $2 billion to $10 billion in exports. For this, larger capacities have to be set up and we have potential to do," adds PrashantAgarwal, Joint MD, Wazir Advisors.