R K Agarwal, Chairman, Telangana Spinners Association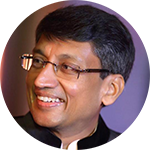 "Not only India and but the entire world is realizing, we need to have alternate supply sources. Indeed, this is a big eye opener for everyone more so for us since we are in competition with China. There is nothing that stops us from creating large capacities where we will be able to cater to the world's requirement in various segments, and fulfill the entire value chain in apparel and the downstream industry. I am sure, many entrepreneurs will come forward to assess the pitfalls we are going through and the lessons learnt from them. In future, some investments will go through in fabric and other raw materials that we are sourcing from China. We need to learn from this and push ourselves to be self-dependent."
What challenges are being faced by the industry today and how to overcome them?
The Prime Minister's decision to lockdown the country was very timely. Looking at the intensity of the pandemic and the challenges the entire world is going through, it was required. The prime importance should be to provide food, medicines and healthcare. Under these circumstances, the textile industry and the entire value chain except a few home segment and those related to medical textiles, are facing many challenges. These challenges are likely to remain for the next 6 to12 months. We have to be prepared to face this for a long time and find ways and means to overcome them.
The crisis could also hold some opportunities, like many apparel makers could switch to making personal apparels at this point as there is a huge demand. Hospitals too require many textile articles like bed sheets, towels etc, probably this area can be looked into. Almost the entire world is in a lockdown and predictions are the economy will move to a negative zone; probably India's GDP will slide to 2 to 3 per cent. A lot of orders are being cancelled particularly for apparels. Most global brands are cancelling orders for the next 6 to 12 months. So, these are challenging times and we appeal to the government to help and support the industry.
What challenges do you foresee in spinning segment?
We are a part of the value chain. It is only when apparel and other segments in the value chain start doing well and complete their orders, we come in and fulfill the value chain. Once there are orders for apparels, bed sheet, home textiles and other segments, order for yarns will start coming in. We are hoping for the best and preparing ourselves for these challenges. At the same time, we are representing to the government for relief that can help the industry in this time of distress.
Since the textile industry is very labor intensive particularly spinning and apparel, the big challenge is to retain workers and make their payments. Once the lockdown is over, and industry starts getting back to normal, we expect the domestic market to normalize faster than the international market.
India and most of the world depend on China for major sourcing, is this an eye opener, and can India emerge a sourcing hub?
Not only India and but the entire world is realizing, we need to have alternate supply sources. Indeed, this is a big eye opener for everyone more so for us since we are in competition with China. There is nothing that stops us from creating large capacities where we will be able to cater to the world's requirement in various segments, and fulfill the entire value chain in apparel and the downstream industry. I am sure, many entrepreneurs will come forward to assess the pitfalls we are going through and the lessons learnt from them. In future, some investments will go through in fabric and other raw materials that we are sourcing from China. We need to learn from this and push ourselves to be self-dependent.
To make India the next sourcing hub, the biggest challenge we face is quality and pricing. Comment.
India can emerge if we are able to source the right technology and can produce in volume. China gets away with pricing because they are able to produce in volume. So they are able to reach economy of scale. We have been looking at that. Since we are able to source a little cheaper, we are not pushing ourselves to enter this space. Somebody needs to take the lead and start a volume segment and other things will start falling into place. As for quality, when you look at economy, you will also look for the best technology. Once you have the best of technology, I don't think you will fall, it will be good automatically.
What has the government done for the industry and what are your expectations?
All textile associations have come on a single platform and made presentations to the government. Some have asked for a moratorium for a year on term loans and extending the working capital limit by about 25 per cent, which could be repaid over a time span of three years and some extra export incentives. We are looking for the state government to waive fixed charges particularly in electricity for the lockdown period or for three months. We are also looking at the Union government to come forward and support in sustaining labour so that they shell out about 50 per cent wages and the other 50 per cent is borne by the industry. Broadly these are the kind of help being contemplated by the industry. We are hopeful they will be granted as textile is the second largest industry after agriculture.
Is the Telangana government doing anything specific for the industry?
We have made a representation to them. The state government has always proactively supported the textile and the spinning industry. We have had discussions and they are seriously working on them. We shall have a response shortly. State governments have their own limitations and most issues are covered by the central government. The states cannot do much other than in the power sector. We have requested them to waive off fixed charges or charge for the actual electricity consumed for next three months as we don't know for how long this will continue and how long it will take to recover.
How would the pandemic impact India's textiles exports?
Garment exports will take longer since orders are cancelled virtually for six months. It will take a longer to recover the overheads from the international markets. As for yarn, we expect China to rebound earlier and as they have almost started working, we could see particularly cotton yarn demand coming from China. That could help the cotton yarn industry to a great extent. Bangladesh might also be of some help as we have information the apparel industry there have started working.
What is your advice to the industry during this challenging time?
The industry just needs to have a grip and commitment and hold on to as this also will pass and things will become normal. We need to be strong and are sure to overcome it.