Debabrata Gosh, Oerlikon, General Manager India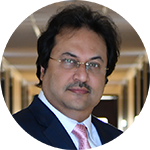 "Once everything normalizes there will be a big momentum. The advantage is that we have a huge potential and such big domestic market hence we are not dependent on exports alone. I don't see any threat for the textile industry. As for opportunities, we are expecting more export orders in future because the same has happened in the yarn segment and it will happen in the fabric segment also and the world will take India more seriously as a manufacturer. So far everybody was dependent on China. Since they offered cheaper rates, people switched to China but now the world will think in a different way to keep the supply chain active from India."
How do you foresee your business prospects in India?
Most customers have closed their plants except bottle grade polyester units, which is an essential item. So they are still operative and a lot of PTA and MHE raw material stock is getting piled up and there is no movement of finished products, which is affecting adversely. Most knitting and weaving units, MSME's, SME's have closed. Garment manufacturers are facing order cancellations both in India and Bangladesh. Of course it is challenging and once the situation normalizes demand will very high and everything will start in full gear. Hopefully by June-July things will improve and definitely textiles being such a big industry will start producing in full capacity both in India and Bangladesh. We also foresee a lot of foreign companies and other garment brands coming to India, making the country their second manufacturing base and not depend only on China. So, for the Indian textile industry there will be significant change in the next two to three years.
Since most countries are dependent on China for their economic load and raw materials is the current situation an eye opener to look for other partners and not to depend on China alone?
This is definitely going to happen but as of today, all industries in China are doing well. Oerlikon factories in China are working at 100 per cent capacity and all our Chinese orders are on schedule. So, China is actually doing very well at their end but definitely many other countries who source from China will definitely think of a second supply source and hence, India has good advantage.
With abundant raw material, is India in a position to compete with China in terms of pricing and product quality?
Definitely, it will take some but India's product quality, especially in textile is also equally good, only volumes are lacking. The quality of Indian textile is at par with the world but volumes are less and products are not as diversified as China. Moreover, China's raw material capacity, spinning capacity is 10 times that of India. So there is no comparison.
With the ongoing lockdown in India what are the threats and opportunities from the current situation?
Many of our small customers are facing difficulties. However, some small knitters and weavers in Kolkata running small factories at home among them 20 per cent are still running and buying yarn but of course 80 per cent don't have their operators and are facing problems. Once everything normalizes there will be a big momentum. The advantage is that we have a huge potential and such big domestic market hence we are not dependent on exports alone. I don't see any threat for the textile industry. As for opportunities, we are expecting more export orders in future because the same has happened in the yarn segment and it will happen in the fabric segment also and the world will take India more seriously as a manufacturer. So far everybody was dependent on China. Since they offered cheaper rates, people switched to China but now the world will think in a different way to keep the supply chain active from India.
Indian government has been extending support to entrepreneurs in a fractional manner in different sectors. Do you think the government has really come all out for the textile industry and given required benefits?
Indeed, the government has done a lot. They have given a lot of support to the industry but our entrepreneurs and businessmen need to be more responsible in utilizing funds and perform their duties. They also have to work on developing better quality and in-house R&D and not just copy products and utilize our own strengths and not keep blaming the government for everything. Every industry is asking for support from the government at present and some are more affected than the manufacturing industry.
At this point, what is Oerlikon foreseeing in 2020? How are you responding to this?
Fortunately most of our manufacturing facilities worldwide are totally booked. We have big orders from China and other parts of the world and our factories in China and Germany are running in full capacity. Oerlikon has developed a fantastic machine for non wovens to manufacture masks at this critical time. It is very high quality non woven which will be used to manufacture effective and functional masks. We have brought this technology to the market now and it will help in mass production of masks. Oerlikon as a group is doing very well and is not affected by the pandemic.