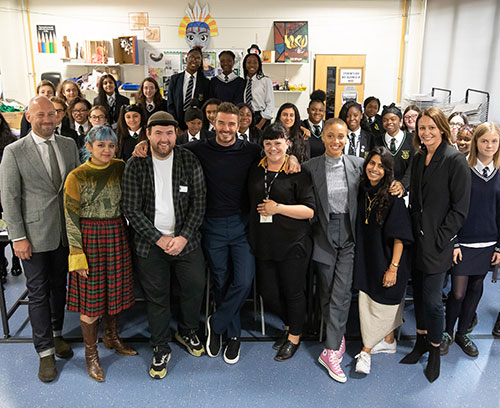 The British Fashion Council (BFC) launched its fashion studio apprenticeship alongwith BFC Chief Executive Caroline Rush, BFC Ambassadorial President David Beckham and BFC Ambassador for Positive Fashion Adwoa Aboah.
The Fashion Studio Apprenticeship is part of the BFC's education department which gives young people a clear understanding of how to train for a plethora of industry roles within the creative industries.
Designed by a group of fashion employers, with the BFC, the apprenticeship starts at the studio and features the entire creation of a collection. The Fashion Studio Assistant is a key position in the designer industry, working with the team that creates a collection. For the first six months, the apprentice will complete a foundation which will include core elements of the job role such as critical path management and health & safety measure. This will lead to 12 months in a more focused area of the business, with the apprentice choosing to specialise in one of three pathways:
• Product Development and Production
• Sales and Operations
• Fashion Marketing and Communications
Following on from the 18-month training the apprentice will undertake an Independent End-Point Assessment that has been derived by industry experts in this field. The assessment will be taken in 2 steps:
• Work Based Project (Including Presentation and Discussion)
• Practical Test The grades for both elements will be combined to confirm the overall achievement of Fail, Pass or Distinction.