"The over enthusiastic response the event has generated , with never before kind of visitors, the event certainly gives us a great confidence that our members of CEMATEX will experience the demand in revival of machinery industry as well as textile and apparel industry across the world. Going forward, for 2019 ITMA in Barcelona, we will surprise you with the new theme of the event," exclaims

Charles Beauduin, President of CEMATEX.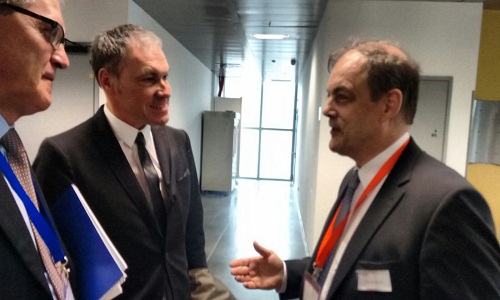 The global textile and garment manufacturing industry converged at ITMA 2015 in Milan recently to source innovative solutions to enhance their business sustainability. Their commitment to sustainability is evident from the strong industry turnout. At the end of eight days, the 17th edition of the world's most established textile and garment technology exhibition attracted almost 1,23,000 visitors from 147 economies.
Focus on green technologies a big draw
Themed 'Master the Art of Sustainable Innovation', ITMA 2015 featured exhibits from the entire textile and garment making value-chain spread over 108,268 sq. mt. of net exhibition space at Fiera Milano Rho. Organised by MP Expositions, it also featured several conferences with the sustainable agenda, as well as the first ITMA Sustainable Innovation Award.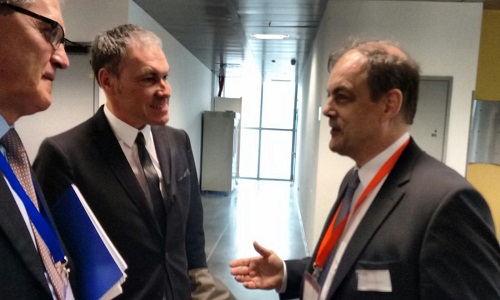 "Sustainability as a theme is not just a word visible everywhere, rather it has been truly reflected in innovations that technology producers have presented showing industry has accepted sustainability as a way the way forward. Exhibitors have been able to integrate this theme in their innovations and developments. We have taken few initiatives towards conducting sustainability awards and so on. Introduction of new technology, innovations that are sustainable is the main challenge considering the global economic conditions," said Charles Beauduin, President of CEMATEX.
Conventionally sustainability is seen as an emphasis at the front end of value chain such as brands and consumer level, found prime place at ITMA. The fair integrated sustainability as the main agenda and theme, that was visible and felt everywhere not just in discussion forums, conferences and interactions, but also as a part of exhibitors' offerings. The emphasis was on how technology could save manpower, energy, water and costs and cause less impact on environment. Introductions of waterless technologies, dry processes, methods to recycling the resources and using natural sources of dyes and chemicals, usage of less pollutant raw material etc, in all sectors of technology made the exhibition much more relevant to the current global economic and environment conditions.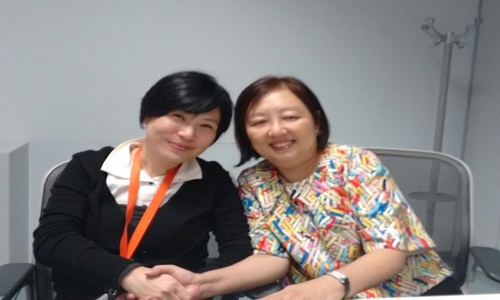 "The theme for 2015 is sustainable innovation. The topic of sustainability has always been important. We have been trying to push that message across since the last edition in 2011. In 2015 we have stressed on sustainability even more strongly. We have encouraged our exhibitors to incorporate the topic of sustainability into their displays and presentations. Sustainability is not just a marketing strategy. It is small steps by each of us toward a better future. We have organized a Sustainable Innovation award. I think we have achieved what we set out to do," opined Eileen Ng, Executive Director, MP Expositions, organising partner of ITMA.
Overwhelming response mark of success
CEMATEX, the European Committee of Textile Machinery Manufacturers, and owner of ITMA and ITMA ASIA, saw an encouraging and overwhelming response from the industry, both from exhibitors and visitors alike. As Beauduin, says, "We registered a 20 per cent jump in visitor numbers compared to ITMA 2011. More importantly, from participants' feedback, we can confidently say that this is one of the best ITMA exhibitions. Our message on sustainability has resonated greatly with buyers."
He praised the industry's resilience and forward-looking agenda, adding that global players have understood the importance of investing in innovations that are planet-friendly and which can also help improve their business bottomline. "Our exhibitors have discovered that visitors, whether they are seasoned ITMA visitors or those attending the exhibition for the first time, are serious about checking out new innovative solutions to improve their competitive edge."
Reiterating a similar sentiment, Regina Brückner, CEO of Brückner Trockentechnik, Germany, said, "We felt for the first time there's a real understanding and interest in energy efficiency and green technology. There's a trend among our customers to want and upgrade their old equipment because they understand the necessity of a highly productive and efficient production over the entire textile production process."
Overall, exhibitors felt that the quality of visitors was high with a strong buyer interest. Visitors from Italy formed the biggest contingent. They accounted for 18 per cent of the visitors. Outside Italy, the top visiting countries were India (9 per cent), Turkey (8 per cent) and Germany (7 per cent). Among other countries the top 10 in terms of visitor numbers were: France, United States, Iran, Brazil, Pakistan and Spain. The lifting of sanctions on Iran in the near future has buoyed the country's textile and garment sector, resulting in more visitors.
Indians mark their presence
ITMA 2015 welcomed many groups from the Indian sub-continent. The number of visitors from India was highest after the hosting country. The who's who of India's corporate including Sanjay Lalbhai of Arvind Mills and Vardhman Textiles, who managed to clinch multibillion deals. Nahar Textiles and Trident with group strength of almost 50 technical professionals respectively, showed the seriousness and high involvement of India's industry in ITMA.
There were delegations from Central Asia, a region where the textile and clothing industry is slated for development as the sector has the potential to create jobs. A 140-strong Uzbekistan textile and garment industry delegation spent three days at the exhibition. It was coordinated by the Textile and Garment Ministry of Uzbekistan.
"ITMA 2015 is really the world's largest textile and garment manufacturing technologies platform which also introduces innovative and eco-friendly machinery. The Ministry aims to modernise the industry with innovative technologies which can create additional value and eco-friendly solutions which will help our manufacturers to compete in the textile world market. We have signed contracts with a number of ITMA exhibitors in the weaving, printing, dyeing and finishing sectors and we will start installation from early 2016 up to 2019," said Khaydarov Ilkhom Utkirovich, Minister of Textile and garment industry from Uzbekistan.
In addition, there was a delegation of 48 representatives from small and medium-sized enterprises (SMEs) from the textile and clothing sectors in Kyrgyzstan and Tajikistan. The group was coordinated by Geneva-based International Trade Centre (ITC), a joint agency of the World Trade Organisation and the United Nations. A Russian delegation of 60 members was led by Evgeny Ryzhov, Deputy Director of the Russian Ministry of Industry and Trade. "ITMA 2015 allowed our domestic companies to learn about the latest technologies for the light and textile industry, enabling them to consider implementing them in their own production, purchase production equipment and to exchange experience with foreign colleagues," he pointed out.
Printing, a new chapter at ITMA
Launched as a dedicated sector at ITMA 2015, the printing chapter featured many established and new exhibitors. First-timer Fujifilm showcased its capabilities as a complete solution provider in digital textile printing. Terry O'Keeffe, Strategic Customer Support Manager of Fujifilm, said, "ITMA has been an excellent platform for us to feature many exciting new developments in the digital sphere to a targeted audience. Our technology was well received with good customer feedback that our technologies significantly contribute to the current and future digital textile market needs."
Exhibitors from other sectors were also impressed with the quality of visitors. As Etienne Leroi, General Manager of NSC Fibre to Yarn said, "This year's ITMA has fully met expectations. We have received numerous customers from all over the world, who have shown great interest in our latest developments. This confirms once more the importance of such an international event."
"We have also had good participation from research and innovation institutions. This is one area where we see growth. Technology for this is growing a lot faster. Whole garment knitting technology allows room for smaller players as well to be in the game. We see a movement toward customised requirements. There is a lot more machinery for increased productivity," avers Eileen Ng, Executive Director, MP Expositions.
At the close of the exhibition on November 19, 2015, Carlo Rogora, CEO of ITEMA Group, said, "Considering the current situation in the textile industry in some markets, we are pleasantly surprised with these results. ITMA 2015 has been especially satisfactory, both in terms of the organisation and logistics of the show and the significant level of attendance of customers. The contacts and orders we established, above all from India and Turkey markets, largely exceeded our expectations."
ITMA 2019 will be held from June 20 to 26 at Fira de Barcelona Gran Viafairground. "The over enthusiastic response the event has generated , with never before kind of visitors, the event certainly gives us a great confidence that our members of CEMATEX will experience the demand in revival of machinery industry as well as textile and apparel industry across the world. Going forward, for 2019 ITMA in Barcelona, we will surprise you with the new theme of the event," exclaims Beauduin.
www.itma.com