For the very first time at an Intertextile Shanghai Apparel Fabrics fair, the entire supply chain for a product category will be on display in the same area. The fair as a whole is the largest apparel fabrics and accessories event, and takes place at the brand-new National Exhibition and Convention Center in Shanghai from October 13-15. The Beyond Denim hall will house denim yarns, fabrics, garments, accessories and machinery to become a true one-stop global platform, and has been re-designed with a special denim style by American design studio Doneger Creative Services.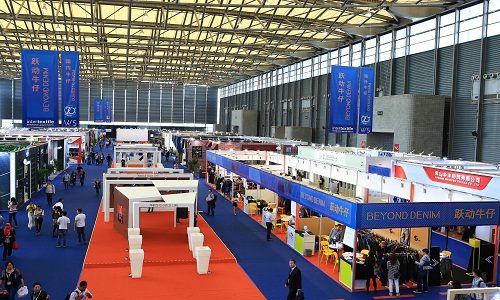 Messe Frankfurt's Senior General Manager, Wendy Wen says the re-designed and significantly larger area will be a major draw for buyers. "The premium product areas of Intertextile Shanghai are already well-known in the industry and attract a lot of high-end buyers from around the world, including SalonEurope, the Milano Unica Pavilion, the Premium Wool Zone and Verve for Design. We believe with the changes we have made to the Beyond Denim concept, including the fact buyers can now find everything in this sector under one roof, this will elevate this area to the same reputation in the industry these others have."
First held at the 2014 Autumn Edition, Beyond Denim expands in size this year by over 70 per cent as a wider range of exhibitors participate. This includes a large number of ready-to-wear denim suppliers from CHIC, the concurrent fashion garment fair. Doneger Creative Services has also created a Denim Forum which will showcase different denim products, trends and technology, and features five trend themes: Dwell, Western, Cyber, Artisan and Wanderer.
Amongst the many exhibitors taking part in this hall is a debut Italian company, as well as two Hong Kong suppliers. SEI S.p.A Italy will showcase its unique 'Flexi Denim' laser system which includes proprietary technology that allows for production speeds of up to three times faster than other machines with the same laser capacity. This system can substitute traditional methods of stone washing, whiskering, fading, sanding, ripping and more on denim and finished garments.
Lucky Textiles Group, Hong Kong specialises in corduroy, twill and denim products, and will feature products with features such as nanotech, iron-free (high & low temperatures), water & oil repellence, anti-pollution protection and more. H.W. Textiles, Hong Kong is a joint venture company with Japanese firm Kurabo. They boast spinning, dyeing and finishing capabilities, and will feature their Kuga, Rogi, Flexi, Vintage and Boy Friend Denim collections at the fair.
Many of China's leading fabric and garment suppliers will also feature at the fair, including Advance Denim, Benjie Textile, Black Peony Group, Foshan Huafeng Textile, Foshan Lisheng Textile, Foshan Seazon Textile and Garment, Freedom Denim, Panther Textiles Holding, Prosperity Textiles, Shan Dong Dai Yin Textile Group and Zibo Haitian Textile.
Asian pavilions to the best Buyers looking to discover new and innovative products can find them in six country and region pavilions from India, Indonesia, Japan, Korea, Taiwan and Thailand. The Japan Pavilion promises to be one of the most innovative at the fair, with a number of exhibitors among the 36 participants showcasing state-of-the-art products and technologies according to Akira Kawashima, Senior Director, Textile Division of the Japan Fashion Week Organization, organisers of the pavilion.
The Taiwan Pavilion, organised by the Taiwan Textile Federation, will also be home to some innovative and unique products. Far Eastern New Century Corp is focusing on sustainable, smart-textile and multifunctional fabric ranges, which includes anti-static heat-generating fabrics, quick-dry fabrics and stretchable and lightweight eco fabrics. Singtex Industrial, meanwhile, are exhibiting their award-winning P4DRY fabric which is made by printing ground coffee onto the cloth to absorb moisture and reduce odours. And their AIRMEM eco-friendly biofilm uses modified coffee oil and hydrophilic agents to improve moisture permeability and water repellency.
While Korean suppliers are known for their innovative and functional fabrics, they also place much emphasis on the latest trends as Yoon Young-Sang, Vice Chairman of pavilion organiser Korea Fashion Textile Association explains. "Korean products at the fair will reflect the trend sentiments, which for Autumn / Winter include fabrics of natural texture and natural fabrics with functionality. Functional fabrics from Korea have excellent value for money, and are drawing a lot of attention, particularly for sportswear and casualwear."
Eight Group Pavilions added attraction
In addition to innovative products from Asia, cutting-edge fabrics can be found in the eight Group Pavilions to feature at this year's fair. The pavilions, which are organised by leading fibre and yarn companies and feature their partner mills, include Birla Cellulose (Grasim), DuPont, Hyosung, Invista, the Korea Chemical Fibers Association (KCFA), the Korea Textile Trade Association (KTTA), Lenzing and Oeko-Tex. All pavilions are housed in hall 5.2, including the Oeko-Tex Pavilion which features in the All About Sustainability zone. Always a popular stop for buyers to discover cutting-edge products is the Lenzing Pavilion, which returns again to this edition 10 years after first appearing.
Fringe programs and concurrent events
Thanks to a huge range of concurrent fairs and fringe programme events, Shanghai will be the centre of the global textile industry in October. With three well-established concurrent fairs taking place in the same venue – Yarn Expo Autumn, CHIC and PH Value – the entire textile supply chain is now covered, and has already shown at the Spring Edition the strong synergy effects for both exhibitors and visitors this brings. Also on the second day of the fair on October 14, Planet Textiles 2015: The Sustainable Textile Event will take place, featuring some of the industry's foremost experts as speakers.
Fairgoers can also discover the latest trends and gain market updates through the fair's fringe programme. This includes the Intertextile Directions Trend Forum, Fabrics China Trend Forums, China International Fabrics Design & Fabrics Creation Competition, and a wide range of seminars and product presentations.
Intertextile Shanghai Apparel Fabrics – Autumn Edition 2015 is co-organised by Messe Frankfurt (HK); the Sub-Council of Textile Industry, CCPIT; and the China Textile Information Centre.