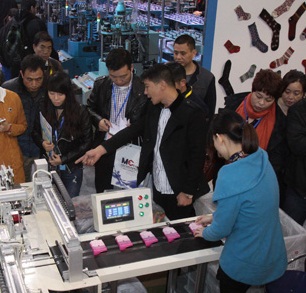 The 16th China Yiwu International Exhibition on textile machinery now called YiwuTex 2015 will be held from November 30 to December 3, 2015 at Yiwu International Expo Centre, Zhejiang, China. A series of events and forums will be held concurrently during the show period to share hot topics of the industry and to analyse the latest design trends.
It is a combination of theory and visual display , for buyers to experience the hottest topics of textile industry. YiwuTex 2015 aims to introduce cultural and technological elements to knitting and garment enterprises, helping them to improve design and move towards sustainable and green production.
One of the biggest challenges for textile industry is sewage treatment. YiwuTex will invite experts from domestic and overseas environmental organisations to interpret the latest environmental technology applications and trends in printing and dyeing industry. It aims to help printing enterprises to achieve energy saving, pollution-free and sustainable production.
Focus on functional clothing trends
As people are increasingly aware of sports and health, functional clothing will be in focus at the event. YiwuTex will cooperate with Donghua University, Zhejiang Sci-Tech University and Hohenstein Institute to present the fashion trend forecast forum. The forum focuses on the latest design of knitwear and perceives new technology and applications of functional fibres. It helps to promote the combination of technology and fashion for knitwear industry, and lead the enterprises abreast of fashion trends and scientific research.
The rapid development of Internet is undoubtedly the most far-reaching revolution on all industries. Many companies are thinking about how textile industry could make use of its solid industrial base to create new advantages in the "Internet +" era and establish a new marketing model. The event will elaborate how to utilize Internet for intelligent production management and brand promotion.
R&D centre in association with Santoni
The organisers are also collaborating with Santoni, the knitting technology leader, to present a R&D centre. Santoni will exhibit a seamless business line from design, product development, production to sales and marketing, which is a totally innovative exhibiting concept and will definitely bring an unrivalled visiting experience. Santoni booth will be divided into four display areas, leading the experience of how world-class brands and suppliers work together for close collaboration, to make best-selling knitwear from new yarn materials. In the production area, you can try Santoni's advanced circular knitting machines and get the latest automatic knitting technology.
In addition, the highly acclaimed 'Knitting Collections Wardrobe' will be presented at YiwuTex 2015. Collaborated with renowned exhibitors, knitwear collections will be displayed onsite to showcase the latest knitting technology.
www.yiwutex.com